Get an introduction of Bangalore in the most offbeat and engaging way. We will cover the various aspects living in Bangalore including the busy markets, local food, temples and historically significant places. This is one of our most popular tours in India. Ideal for people seeking to get a glimpse of Bangalore's history and cultural richness.
This Bangalore walking tour will give you the chance to absorb the sights, sounds and flavors of Bangalore's historic market place "pete". You will also have the chance to watch the lively exchange between local residents and stall owners at the flower market, buy fresh local produce from fruit vendors and savor delicious snacks from hidden gems in the market.  Learn about Bangalore's 500 year history and its connection to the world.  Visit beautiful South Indian temples and engage in conversation about religion and spirituality.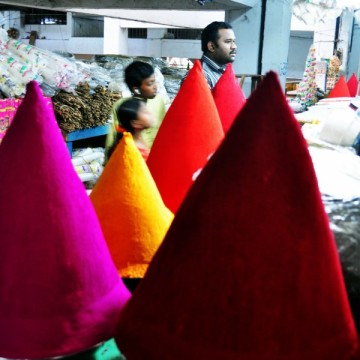 When can I go?
8:00 am to 11:00 am
Available daily

The tour starting point will be at the State Bank of Mysore entrance gate on Avenue road. The tour ending point will be at Tipu's summer palace. There will be no pickup and drop off for this experience, please arrange to be at the start point on time.
Experience Highlights
Learn the history of Bangalore and the story behind how it was founded.
Walk through the 150-year-old charming flower market, which will be a treat for your senses.
South Indian breakfast at a handpicked local place
Learn about Bangalore's role in resisting the mighty british empire
Visit a 320 year old south indian temple built in the Vijayanagara style
Learn about Dravidian and Islamic architecture Styles
Learn about prolific leaders who shaped Bangalore before the british came
Detailed Itinerary
After a brief introduction, we will stop at different places to taste food and engage in conversation as we head towards K.R. Market.
At K.R. Market we will explore the flower, fruit and spice stalls. The market is full of rich colors and smells, which will give you a great opportunity to take pictures. Further south is the Bangalore Fort and Tipu's Palace where Tipu Sultan battled the British general Lord Cornwallis.
We will then end the tour with a visit to 320 year old temple built in the Vijayanagara style.
Leave a comment