One cannot leave the state of Rajasthan without experiencing a camel safari in the desert. Jaisalmer, the golden city located in western Rajasthan, is an ideal place to experience a camel safari.
Nearly half of Rajasthan is a desolate desert, receiving very little rainfall. On the western edge of Rajasthan, just 100kms from shared border with Pakistan, is the city of Jaisalmer. Jaisalmer came to prominence because of its strategic location along an ancient trade route linking India to Central Asia, Egypt, Arabia, Persia, Africa and the West. Traders would use camel caravans to cross the inhospitable desert. Those glory days when rich traders built elaborate havelis slowly declined over time as Jaisalmer lost its strategic advantage with the rise in popularity of the sea route.
On this experience we take you into the desert on a camel safari, through some of the routes that traders took many hundred years ago.  We will camp overnight under the open sky and enjoy the beauty of the desert.  On route we will visit the abandoned village of Kuldhara, a desert village and monument of Barabagh.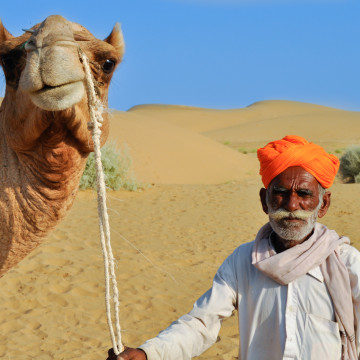 When can I go?
1.30 pm (Day 1) to 10.00 am (Day 2).
This experience is available daily.

You will be picked up and dropped off from Jaisalmer town.

Experience Highlights
Sleep on mattresses under the open sky, which provides a spectacular view of the stars above
Visit the historic monuments of Barabagh and the abandoned village of Kumbalgarh
Ride a camel through the desert as the sun sets
Visit a small desert village and learn how its people survive in such a harsh climate
Detailed Itinerary
Day 1
We will leave Jaisalmer town around 1.30 PM on a jeep towards the starting point of our camel safari. En route, we will visit Barabagh, Kumbalgarh and a small Rajasthani village.
We will begin the camel safari, with each person on one camel, riding single file. After about 1.5 hours, we will arrive at the sand dunes, the site for overnight camping. You will receive tea and snacks.
Sunset over the sand dunes is a magical experience – make sure you get a few memorable pictures before it becomes dark. On this tour, we will arrange clean mattresses on the sand dunes for your comfort, sheets and a quilt in the winter. A bonfire will be lit and cooks will get to work to prepare a simple vegetarian meal for you.
Day 2
After an early breakfast consisting of tea and bread toast, we will hit the road with the aim to leave the desert before the sun starts blazing.
Please read through section below to understand all the risks involved on this tour.
Additional Information
Challenges of camping under the open sky
Sleeping under the open sky in the desert is an unforgettable experience, but it comes with challenges.  For many taking up these challenges is worth the effort, for some it is not.  Nobody understands you better than yourself, so based on information provided below you should make a decision.  A decision on whether you'd like to camp overnight under open sky on mattresses or would you prefer other alternatives like camel safari with overnight camping in Swiss tents or camel safari – a one day tour
No toilet facilities – there are no permanent structures in the desert where we are camping, so answering nature's call has to be done in the bushes. It is not such a difficult thing to do, but something you should be comfortable doing.
Insects – life in the desert becomes active at night, for example dung beetles that come out at night to collect dung. These are harmless to humans but are common in the desert.
Leave a comment