The narrow lanes and alleyways of Old Delhi are famous for their colourful shops and food stalls, home to some of the best food in Delhi, if not India.
On this food tour, you will visit some of Old Delhi's best known eateries including the Paranthe Wali Gali, Giani's Kulfi Faluda, Natraj Dahi Bhalla, Akbar Pakwaan and Chole Kulche, as well as many hidden gems only known to locals. Watch each delight being made and then taste them!
The finale is at lunch at the legendary Karim's, a 100-year-old restaurant started by a cook whose family used to work in the royal kitchen of the Mughals. Karim's is now known to have the best Mughlai dishes in Delhi – locals swear by it!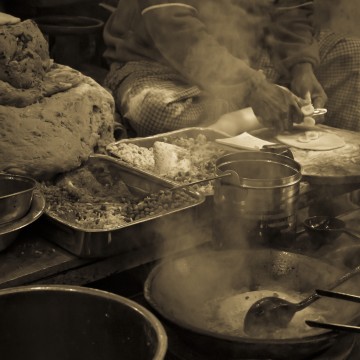 When can I go?
Throughout the year

You will be picked up and dropped off at your hotel
Experience Highlights
Visit some of Delhi's oldest and best known eateries, including the Paranthe Wali Gali and Chole Kulche
Watch street vendors making a range of snacks such as paranthe, chaat or faluda, and taste each of them!
Enjoy lunch at 100 year old Karim's, where you can try their legendary mutton burra, seekh kebabs, and sheermal
Detailed Itinerary
8.30 am: You will be picked up at your hotel
10.00 am: We arrive in Old Delhi, starting the food tour at India's largest mosque, Jama Masjid. Visit a variety of Old Delhi's best eateries, including the Paranthe Wali Gali, Giani's Kulfi Faluda, Natraj Dahi Bhalla, Akbar Pakwaan and Chole Kulche
12.30 pm: Lunch at Karim's, a 100-year-old restaurant started by a cook whose family used to work in the royal kitchen of the Mughals. Karim's is now known to have the best Mughlai dishes in Delhi – you'll get the opportunity to try dishes including their legendary mutton burra, seekh kebabs, and sheermal (bread)
1.30 pm: The tour ends, you will be dropped off at your hotel
Leave a comment