by
Arjun Bhat
, photo by
Arjun Bhat
Spend a day with a temple elephant in the cultural capital of Kerala
Traveling in India, it is impossible to be unaware of the religious significance of elephants. For instance, in Kerala, nearly half of the state's 650 captive elephants participate in temple processions. As you may have noticed, elephants also carry a deity during annual festival processions in Hindu temples and are decorated with gold plated caparisons ("nettipattam"), bells and necklaces. People mounted on the elephants typically hold tinseled silk parasols ("muttukuda") up high, swaying white tufts ("vencamaram") and peacock feather fans ("alavattam").
During this experience, we want to give you the chance to have a relaxed and intimate encounter with a temple elephant. You will be able to go to a place that houses temple elephants and help their caretakers ("mahouts") ride and bathe the elephants.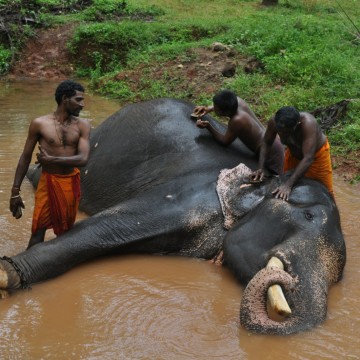 When can I go?
9:00 am - Available daily
Pickup and Drop off: Kochi, Thrissur
Experience Highlights
Spend a few hours up close and personal with a temple elephant.
Give an elephant a good scrub down!
Spend some quality time with the mahouts to understand their way of life.
Detailed Itinerary
Please be at Thrissur town by 9.00 am. Transportation charges are not included in the price quoted, if you wish for us to arrange transportation for you then please let us know, charges will vary based on pickup location and number of people.  If you are coming by your own transportation then we will let you know the exact location to reach in advance over email.
We will start the day by getting you familiarized with the elephants, which will involve feeding them bananas and letting them get comfortable with you. The guide will then explain some simple do's and don'ts.
You will then be able to ride on the elephant through village roads and watch as people come out of their homes to offer food to the elephant. After a long ride, you will take the elephant for a bath in a nearby river.
Leave a comment