Hampi is one of the most beautiful and evocative of all historical sites in south India. It was established as the seat of the Vijayanagara Empire in the mid 14th century, a time when art and architecture flourished in South India. Today only structures made of solid masonry survive as evidence to the glorious past. The site is a protected UNESCO world heritage site, spread over an area of 265 square kilometers encompassing beautiful temples, basements of palaces, remains of aquatic structures, ancient market streets, royal pavilions, bastions, royal platforms, treasury buildings and more. The destruction of Hampi in CE 1565 was so complete that no other Kingdom was able to establish a capital city here again. However people continued to reside in area and practice agriculture, so the region has retained a rural character all these years. Agriculture is possible in this otherwise arid region because of the river Tungabhadra.  The Vijayanagara kings pioneered in effective use of water for the growth of their capital as well as agriculture in the region by building aqueducts, canals, check dams and bridges.  Some of the Canals built in 15th Century are still in use today and provide water to agricultural lands growing sugarcane, corn, paddy and banana.  In all there are 29 village settlements in and around Hampi, these communities practice agriculture or cattle rearing. Various tribal groups such as the Lavanis and Veshegaars also reside here.  In addition to this Hampi is home to several religious institutions and is a major pilgrimage destination for followers of Shiva and Hanuman.  The people living in these communities are an essential part of the world heritage site of Hampi and anything rooted in these communities adds to the cultural significance of the place.
While most travellers come to Hampi seeking to learn about the history and see the ruins,  it is impossible not to be drawn by the charms of the villages around it. What makes Hampi special is the vast ruins spread around agricultural lands and communities that live here.  This getaway attempts to give you a glimpse into lives of the communities that live here and at the same time have you immerse in the rich heritage of Hampi's world heritage site.
On the first day we will explore the ruins of Hampi on a guided tour,  we will cover all the major monuments
Price
Price could be within the range indicated,  the final price will vary based on number of people travelling, accommodation provided and other customization. Please fill up the enquiry form for a quote.
Accommodation
Accommodation will be arranged at a heritage property set in stunning village surroundings.   Allocation will depend on availability.  Send us an enquiry with interested dates and we'll get back to you with a price quote and share details of available accommodation for those dates.
Tours and Activities Included
1) Classical History and Heritage of Hampi Tour (6 – 7 Hours) –  Day 1
2) Village Life Tour – Walking, Mopeds, Bullock carts and Coracle boats (4 – 5 Hours)  – Day 2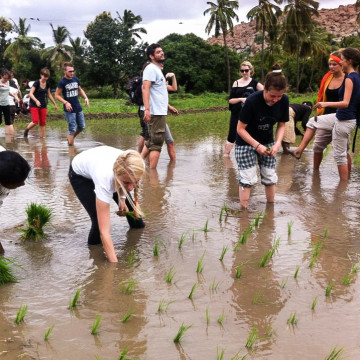 When can I go?
June through February
Experience Highlights
Visit all the important spots within the world heritage site in short duration of two days
Immerse yourself into the village life
Ride a bullock cart, coracle boat and mopeds through beautiful countryside
Enjoy home cooked meal
Enjoy exploring prehistoric cave paintings that are at least 4000 years old!
Detailed Itinerary
Day 1
Pickup can be arranged from Hospet bus or train stations. Pickup can be in cars or auto rickshaws based on your preference. After pickup you will be transferred to the hotel or guest house of your choice. We will start the days activities around 9.00 AM on a guided tour of Hemakuta group of monuments and Hampi by the River.  
Mustard seed Ganesha
Hemakuta Group of Monuments
Virupaksha temple bazaar walk
Achutaraya temple
River side walk and Coracle boat ride
Kings Balance
Vittala temple complex
We will break for lunch between 12.30 PM to 2.30 PM, a vegetarian lunch will be arranged in Hampi.
We continue our exploration of Hampi's ruins with a tour of Royal City Area . The following monuments will be covered.
Queens Bath
Steep tank
Great platform – Mahanavami debba
Hazararama temple
Queens enclosure – Lotus Mahal & Elephant stable
Nobelman's Quarters
Day 2
There are some 29 villages settlements in and around Hampi, people living in these settlements are an essential part of the site and anything rooted by these local communities add to the cultural significance of the place. Agriculture is the main source of livelihood for the people in these settlements. There have been human settlements here for more than 5000 years evident by the abundant cave painting all over the boulder hills of Hampi. The water of river Tungabhadra has blessed this region. Several species of birds and animals thrive here. The area also has the most unique and awe-inspiring landscape anywhere in the world with big boulder hills cut through by river and canals, spread between paddy fields, sugarcane fields and banana plantations.
This engaging tour will give you a glimpse of the life in these village settlements and an opportunity to enjoy the stunning landscape and its riches. We will ride on mopeds, bullock cart and auto rickshaws as we explore Anegundi village, the rural countryside, lake, irrigation canals and cave paintings. We will visit a local tea shop and a handicraft shop. We will end the tour with a sumptuous home cooked meal at a beautiful picnic location. After lunch you can continue to explore on your own as you'll have the mopeds at your disposal till the end of the day.
Drop to the Hospet town at the end of the day can be arranged.
Leave a comment