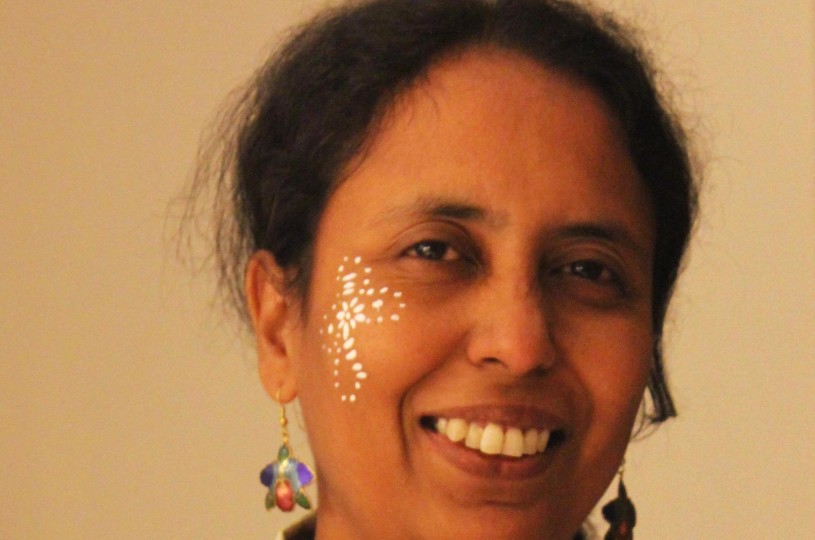 By Satya Tammareddy
Travspire got the chance to speak with Mridula D, travel blogger extraordinaire at Travel Tales from India, India's most followed travel blog. Since she started blogging in 2005, she has amassed over 1 million hits on her blog, almost 13,000 Facebook fans and 1,400 Twitter followers. How she juggles her travel addiction, writing, full time job as an Associate Professor and looking after her daughter is a puzzle to us. She has already started fund raising for her dream of visiting Antarctica with Sir Robert Swan's organization in 2041.
Tell us a bit about yourself…
I am a small town girl from UP. I managed to study till I got a Ph.D. I never had any creative bone in my body or so I thought, till I picked up a camera. My best decision in life has been to adopt our daughter. In real life I do not talk that much, at least not in the beginning. I am the wall paper in a party.
When did you get the travel bug?
While growing up I was quite active in sports and it is only when jobs left no scope for it I went for travel like never before. My travel addiction has grown over the years. I wonder where it will eventually take me. I love my job and I am not brave as well, to quit it, but some days I come quite close.
What prompted you to start blogging?
The entire credit/blame for my blogging goes to my sister and brother-in-law Alka and Amrit. They started blogging before me and they gave me no peace till I started blogging too. In fact my first post was written from their home. So they made me do it! It was only later that I just got addicted.
What is your "day-time" occupation? How do you manage that and the travel/blogging?
I am an Associate Professor with G.D. Goenka World Institute. I manage my blogging with my job and my child and everything else somehow, don't ask me how. Sometimes the posts are too short, sometimes they are scheduled in advance, sometimes they are rushed and full of typos but post I will. I cannot sleep if I do not blog that day. Still sometimes I do miss an occasional post but I try not to.
What has been your favourite travel destination so far?
Picking up one destination is just too difficult. My trip of a lifetime has been my trek to the Everest Base Camp in Nepal in May 2012. South Africa this year is a close second. Within India I am a mountain person and my favourite is Spiti in Himachal Pradesh.
Even though we humans try out best to mess it up, it is still a beautiful world out there.
What's next on your travel bucket list?
It is not really next because I need to do huge amount of fund raising for it but I want to visit Antarctica with Sir Robert Swan's organization 2041. For sure, I am heading to Nepal to try and trek through Annapurna Circuit in Nepal this June.
Your favourite food?
I am not a foodie at all. Eating hostel food for 11 years killed all my taste buds. If I have to pick up one I will say it will be a crisp muli ka paratha in a dhaba in the Himalayas with very little chilies and a lot of butter.
How have you amassed such a following? What would be one piece of advice you would give to a budding blogger?
I think the following is incremental; I have been blogging since 2005. To a budding blogger I would say if it doesn't happen overnight to you as well, just stick around. There are only a few who do.
Any memorable incidents during your travels that stand out?
There have been times when I have walked through a vast valley, the size of many football fields. Often it is only my guide and me, I end up feeling like a hobbit. In the larger scheme of things I appear like a dot somewhere, often not even that! It never ceases to amaze me.
When you are not travelling/blogging what do you like to do?
I like to read whenever my daughter will let me do it!