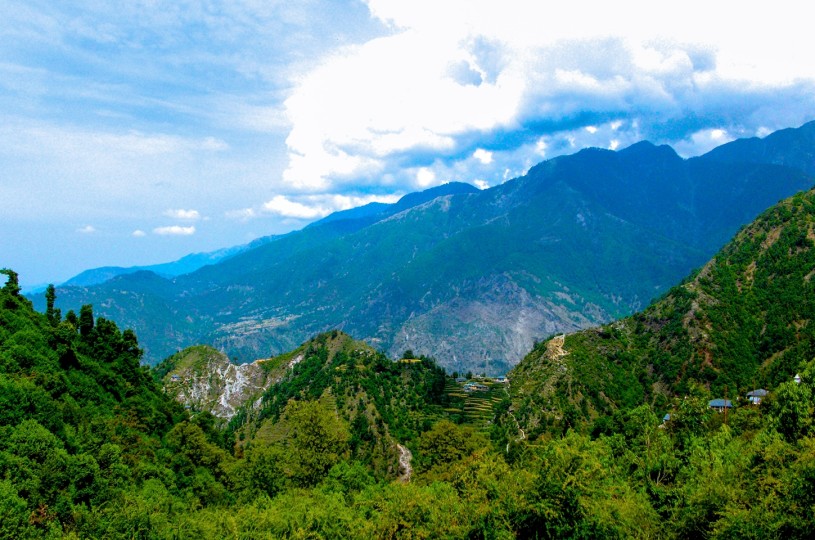 By Laura Piwinski
I sat alone in the yoga shala, notes and books spread out in front of me, as the rain pounded down on the slate roof. The downpours in the Himalayas were unlike any I had experienced; without warning, storm clouds would roll over the hills unleashing a brief deluge, awakening vegetation and stranding everyone else. The brave would carry on, already soaked beyond concern, while others ran for shelter. People peered out windows, gathered under covered balconies and stared out from open-air cafés, mesmerized by the pulsating torrents that were at once terrifying and life-affirming. It felt as if the mountains themselves were alive.
—
A similar storm had cut short a mini-trek some fellow yogis and I set out on the previous day. We were about halfway to Triund, our destination, when clear skies gave way to thunder and rain. In typical style, a group of ten of us tried to fit in a nearby tea stall meant to accommodate a maximum of five. We were cramped and wet, the leaky roof offering minimal protection from the rain. I sipped my chai secretly thankful for the break. My lungs were starting to feel the thinning air and I worried how my perpetually injured knees would handle the return journey. Luckily, others in the group had similar thoughts. When the downpour subsided to a drizzle, we ventured out and changed course to find a nearby waterfall. After about an hour or so of dipping our feet in the cool mountain waters and taking in the sheer magnitude of our surroundings, we began our slow descent back to Dharamkot.
Careful not to slip on wet rocks, we took our time walking back down the hillside. Everything smelled of fresh rain, the sound of mongoose giggles echoed throughout the forest, and a hint of a rainbow arched across the sky. We didn't follow a specific path, but just kept heading downward eventually stumbling upon a café where five of us stopped to enjoy a late afternoon feast. We were seated on the floor of a covered patio overlooking much of the Kangra Valley, including the Dalai Lama's temple. It was a region populated by exiles—by Tibetan refugees fleeing political repression, by Indian nationals evading the summer heat, by an assortment of other expatriates for reasons as varied as their origins. The feeling of hospitality and acceptance permeated everything so deeply that for the first time in a long while, I felt the elusive notion of being "home."
—
A clap of thunder shook me from my daydream and I looked back down at my notes. I was studying for my yoga certification; reviewing Sanskrit terms, anatomy, pedagogical techniques, and yogic philosophy. It was the perfect extended vacation for someone whose mind does not fare well with idle relaxation (I'm that annoying family member that can't just enjoy a week at the beach). I looked at one of my scribbles and thought back to that particular lesson.
"Vinyasa is like these mala beads here," the yoga instructor said, holding up a set of Hindu prayer beads, "Think of each bead as an asana. Your breath is like the string tying them all together. People so often focus on the static poses when it's the transitions into and out of the postures that really count."
I thought about this concept—not just as it applied to my yoga practice, but as it applied to my entire time in India. We so often focus on the destination, building a travel itinerary that jumps from one world heritage site to another, giving little thought to how we get there or what we do along the way. As I sat and thought about everywhere I had been, the memories that popped weren't the architectural marvels, but the unexpected experiences I stumbled upon along the way. I remember the auto driver who showed me his favorite view from Thekkady and let me drive his rickshaw. I remember my first bite of masala dosa at MTR in Bangalore. I remember my friends taking care of me when I inevitably got sick (the pani puri was totally worth it). I remember laughing the whole night back from Hampi as our bumpy bus turned us into life-sized popcorn. I remember finding the perfect Mysore silk sari and haggling over a reasonable price. I remember the people, the food, the frustrations, the small victories… the culture that breathes life into every travel experience.